Mia Kelly & Nick Loyer - Co-bill on Sunday, October 29, 2023 @ 2PM
Suggested Donation: $25 per person, RSVP: rickksroom@gmail.com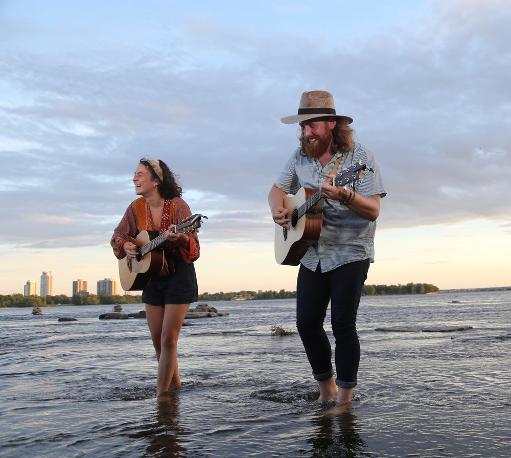 Mia Kelly & Nick Loyer put on a heartwarming, toe-tapping show that brings an electric energy to every stage they play. The two powerhouse vocalists and acclaimed songwriters come together to create a dynamic duo with songs from the heart. Their infectious friendship, passion, and melodies are sure to leave you feeling wanting more.
Mia Kelly is a singer-songwriter from Gatineau, Quebec she writes/ performs in both French and English. Mia grabs listeners with a distinctive blend of Folk, Rock, and Blues and is making her mark in the Canadian folk music scene. Mia was awarded Emerging Artist of the year by Culture Outaouais and has been selected to represent Canada in the 2023 Jeux De La Francophonie.She is quickly gaining recognition as a poetic lyricist with a powerful and versatile voice,
Nick Loyer is the founder and lead singer/songwriter for A Leverage for Mountains, a Gatineau based folk-pop trio. He was named "one of Ottawa's top 10 artists to follow in 2020." by the Ottawa Citizen.
Singing and writing with beautiful honesty, Nick charms all those lucky enough to hear his
songs.
Caroline Brooks & Ben Kunder - Co-bill on Sunday, June 18, 2023 @ 2 PM
Suggested Donation: $25 per person, RSVP: rickksroom@gmail.com
Please join acclaimed Canadian musicians Caroline Marie Brooks (1/3 of Good Lovelies) and Ben Kunder as they embark on an East coast co-bill tour celebrating a return to live performance and a new song together. The shows will be memorable and intimate and warmly familiar, like the hallway of photos in your family home.
A lifelong musician and creator, Caroline Marie Brooks is perhaps best-known as a member of heralded folk/pop harmony trio Good Lovelies, though she's also lent her singing and six-string talents to friends like Jim Bryson, Jill Barber, and Ken Yates on projects of their own. In 2021, she released her first solo outing entitled "Everything at the Same Time", a collection of 11 songs that ask that we live and be present in the moment and to remember that though the days are long, the years are all too short.
@carobrooksmusic
Occupying a rare but accessible musical space between folk, pop, and Cali-style Americana, Toronto singer/songwriter and multi-instrumentalist Ben Kunder chronicles the ordinary and the extraordinary in luminous detail. With three highly acclaimed studio albums (2019's Searching For the Stranger, 2018's Better Human, and 2015's Golden) and multiple international tours and festival appearances achieved to date, Kunder has amassed a devoted following while establishing himself as a sought-after collaborator and electrifying live performer. A committed social justice advocate, father to two young kiddos and compassionate member of the human race, Kunder consistently yields exquisite musical insights.
@benkundermusic
Martyn Joseph Saturday, April 29, 2023 @ 3 PM - SOLD OUT
He is gifted with the rare ability to speak to the soul with his expressive and poignant lyrics and has a career spanning 30 years, 32 + albums, over a half a million record sales and thousands of live performances. Be it to 200 people or 20000 people he blows the crowd away show after show.
Please join us on April 29th , 3 pm start time - email rickksroom@gmail.com to reserve your spot.
Suggested donation : $30 per person